OUR COVID POLICY
Thank you for supporting our locally-owned small business during this challenging time!
Non-essential in-home services to occupied dwellings are suspended. Warranty repairs and new installation start-ups are scheduled to begin October 15. Our showroom is open for virtual appointments and telephone contact. In-person visits are by appointment only.

Dimplex
Dimplex North America Limited is the world leader in electric heating, offering a wide range of residential, commercial and industrial products.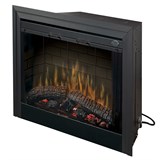 BF39STP Built-in Firebox includes Purifire air treatment system, refractory brick interior, patented realistic flame effect.